The Daily Mail on January 4 reported that the clash in nature occurred in the Okavango Delta, Botswana, Africa. Mike Sutherland, 34, co-founder of wildlife tour company Escape Safari, witnessed it all and took video while driving through the Mombo wildlife camp, in the Okavango Delta.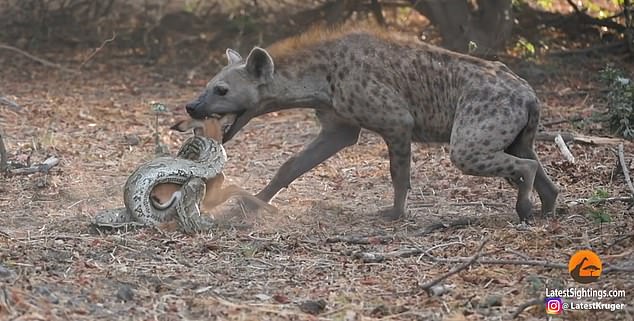 The video opens with a baby antelope lying in place, while the python crawls quickly on the ground. The video then switches to the antelope struggling on the ground as it is squeezed by the python.
At the same time, a third person, a hyena, appeared. It rushed to grab the antelope's head and let it go, while the python was still wrapped tightly around the body.
After a while of fighting, the python finally gave up and left.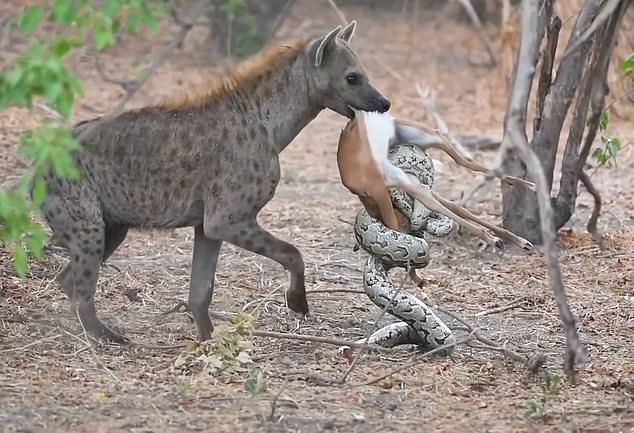 The hyena rushes to steal the python's prey. Photo: Latest Sightings
Recounting the whole incident to Latest Sightings, Sutherland said: "We appeared during the breeding season of species such as wild boar, antelope, or wildebeest. As we drove around the area, we drove around the area. discovered a herd of young African antelopes, some of them a few days old, some of them just born.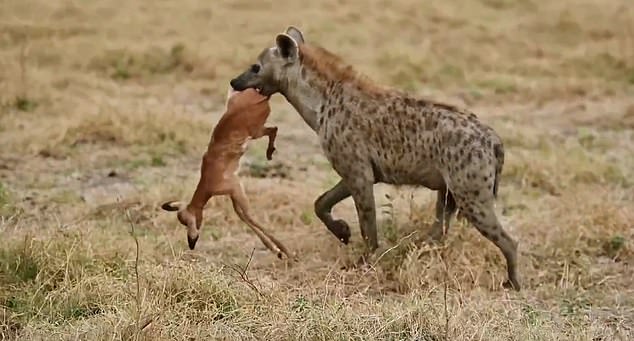 But nearby, a python slithered down from a large bush and began to hide under a pile of rotting leaves. An unlucky baby antelope passed by and was grabbed by the python.
The antelope cried out for help, but attracted the attention of a nearby hyena. And everything happened after that as you see in the video."
According to Sutherland, everyone who witnessed the first incident was very surprised. The 34-year-old said he had never seen anything like this in his 12 years as a tour guide in Africa.